Reeded glass is also known as fluted glass/ribbed glass, as a type of patterned glass it is produced by pressing semi molten glass between metal rollers to create a distinct pattern. Reeded glass adds visual interest to the applications and improves the privacy by creating subtle shifting of light.
With different center gaps, reeded glass diffuses varying level of lights, create subtle distortion for limited obscurity, and yet gives an interesting look for every style from traditional to modern.
Specifications:
Thickness: 5mm/6mm.
Standard Size: 1830*2440mm/1830*3000mm
It might vary a bit from each pattern, for more details, welcome to contact us.
Color option: normal clear/low iron
In order to enhance aesthetics and increase design flexibility, color laminates are available, color options include: blue, green, grey, bronze, pink, red, arctic snow, polar white, cool white, colored mirror laminates are also available.
Patterns:
There are 4 types of reeded glass for you to choose from, please see as below:
V-shape, Prism, standard Reeded, and wider Reeded.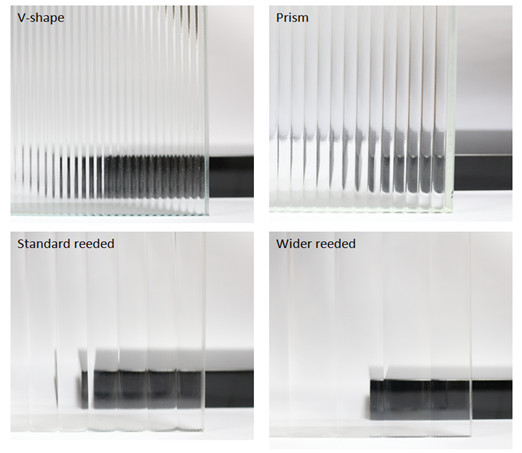 Applications:
Windows and doors

Cabinets doors

Interiror and exterior panels

Entrances and partitions

Shower and bath enclosures

Handrails and railings
For more information, please contact us with your requirements.