Our new kind of anti slip glass, which is processed by acid etching, the portions of the glass are removed to varying depths by a controlled process, which give the glass the slip resistance to walk on. The surface are durable and gripy, unlike doing coatings, paints or appliques that are susceptible to chipping or flaking off. Besides, the unique combination of opacity and transparency provides for full privacy, while still allowing for exceptional light transmission through glass.
Advanced features:
Superior slip resistance, unique design

Obscures view while maintaining a high level of light transmittance

Consistent acid-etched finish, grippy and draining

More durable than applied coatings

Superior resistance to surface contamination from dirt, oils, chemicals, liquids, food.
Patterns:
Currently we have 4 patterns that are very popular for glass floorings, each pattern has 2 different finishes: transparent or satin.
We also can make custom designes. Please contact us for your design ideas.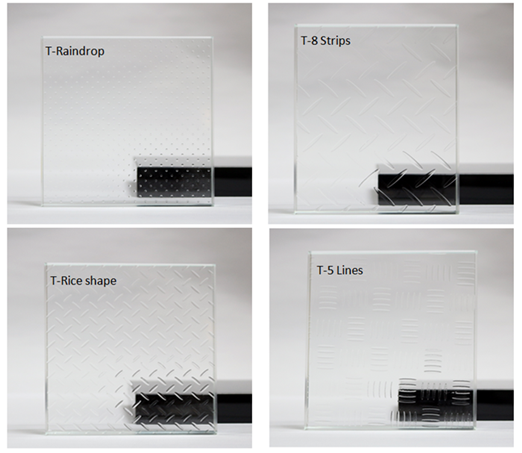 Size & Thickness:
Maximum: 2440*3660mm
Thickness: normally 6mm, 8mm, 10mm, 12mm, 15mm
Finish: satin or transparent
Color: normal clear, low iron, grey, green, blue are also available.
Applications:
The new non-slip glass for floors, stairtreads and pavements achieves to combine elegance and safety, allowing its use in all types of locations, for both interiror and exterior design.
Please contact us for more information.